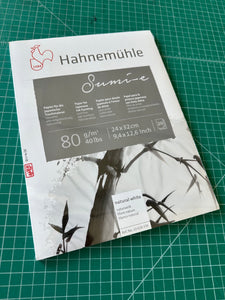 Mountain Intaglio
Hahnemühle Sumi-e paper
Regular price
$27.00
$0.00
Hahnemühle Sumi-e paper is a lightweight Asian-style paper designed for ink painting.
This paper makes a fantastic cyanotype. The paper is 'thirsty' and does require a little more coating solution than the Hahnemühle Platinum Rag to cover the same image area, but makes a compelling image using the cyanotype process.
Check out Bill Schwab's video here to see how this paper can be used for cyanotype:
Hahnemühle Sumi-e paper can also be used for intaglio printing if the dampness is managed properly. Our technique here at Mountain Intaglio is to interleave dry sheets of Sumi-e with heavier European style papers in a damp pack. No need to moisten it any further. It will absorb the dampness from the adjacent sheets of paper. Because it is very thin, we encourage you to back the print with two layers of newsprint before running it through a press to prevent the ink from penetrating through the paper onto your press blankets.
The paper is a natural white color and has a 80gsm weight and comes in 20 sheet packages.
---
More from this collection